CONTROL PANEL MANUFACTURING :
At PYRAMID we offer control panel Manufacturing. We mainly undertake the production & commissioning of Control Panels dedicated to varied operations in various industrial units. We have in-house capability for Assembly and Wiring of control components in panels. Our facility has the necessary infrastructure to carry out the Assembly, Wiring and Testing of Panels and Cabinets, housing, Controls and Automation products.
International Quality products & environment of international standards help us deliver quality products of international repute. We manufacture control panels of all varieties both for indoor & outdoor applications, in M.S. as well as Stainless Steel fabrications.
Skilled wireman and test technicians manufacture and test all control panels whether designed in-house or as 'build only' to your designs. Whether a single panel or 'production line' multiple panels, our facilities are efficient and offer quality of workmanship. Every panel is rigorously tested and the test results recorded and delivered along with the panel.
Our dedicated test area provides a comfortable environment for Factory Acceptance Testing. and clients are always welcome to visit the premises during manufacture and testing.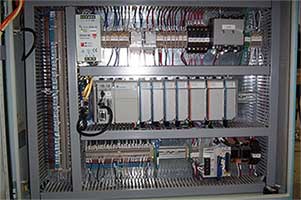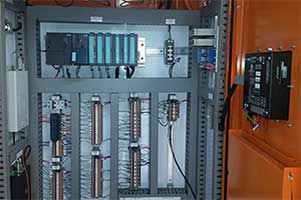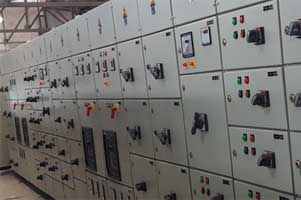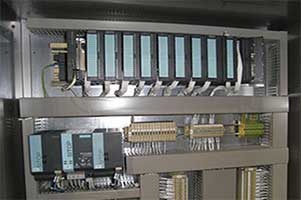 ELECTRICAL ENGINEERING SERVICES :
Detailed Engineering Drawings :
EPLAN, AutoCAD-Electrical Drawings.
Single Line Diagrams, Schematics, cable/JB schedules, Cable.
layouts, interconnection schedules Device Tag list, Terminal Diagram.
Preparation of Design Documents including Design Basis & Calculations.
Load calculation & selection of electrical components.
Power & Control Cable Layouts, Earthing layouts, Lighting layouts.
Equipment layouts, Switchgear/control room layouts.
Panel Engineering & Supply.
MCC / PCC - GA drawings.
Panel Inspection & testing Panel.
Installation & Commissioning - Expertise in :
• PLC control Panel
• Motion Control Panel
• Drive Panels
• Remote control stations
• MCCB and Starter panels